Adore Delano
Daniel Anthony "Danny" Noriega, aka Adore Delano. a drag queen and singer-songwriter,
Rose Byrne
Billy Corgan
Billy Corgan is singer, songwriter, and guitarist of The Smashing Pumpkins.
Margaret Cho
Stand-up comedian, actress, fashion designer, author, and singer-songwriter.
Diamanda Galás
Diamanda Galás is hailed as one of the most important singers of our time.
Natasha Lyonne
American actress, writer and producer
Alex Budin. Trans Man, photographer and model
Sam Pancake
Buck Angel
Buck Angel is an adult film actor and founder of Buck Angel Entertainment, a media production company. A trans man, he received the 2007 AVN Award as Transsexual Performer of the Year; he now works as an advocate, educator, lecturer, and writer.
Margaret Cho
Ross Mathews
Elvira Mistress of the Dark
Patrick Wolf
Nina Hagen
Judy Greer
Gia Gunn
"GIRLS CAN WEAR JEANS AND CUT THEIR HAIR SHORT AND WEAR SHIRTS AND BOOTS BECAUSE IT'S OKAY TO BE A BOY; FOR GIRLS IT'S LIKE PROMOTION. BUT FOR A BOY TO LOOK LIKE A GIRL IS DEGRADING, ACCORDING TO YOU, BECAUSE SECRETLY YOU BELIEVE THAT BEING A GIRL IS DEGRADING." –IAN MCEWAN, THE CEMENT GARDEN
Peaches Christ aka Joshua Grannell
Dani Soto, Sister of Perpetual Indulgence
Jinkx Monsoon
Jerick Hoffer, aka Jinkx Monsoon, is the drag performer, actor, comedian and singer. Known for winning the fifth season of RuPaul's Drag Race - Identifies as "non-gendered" or non-binary.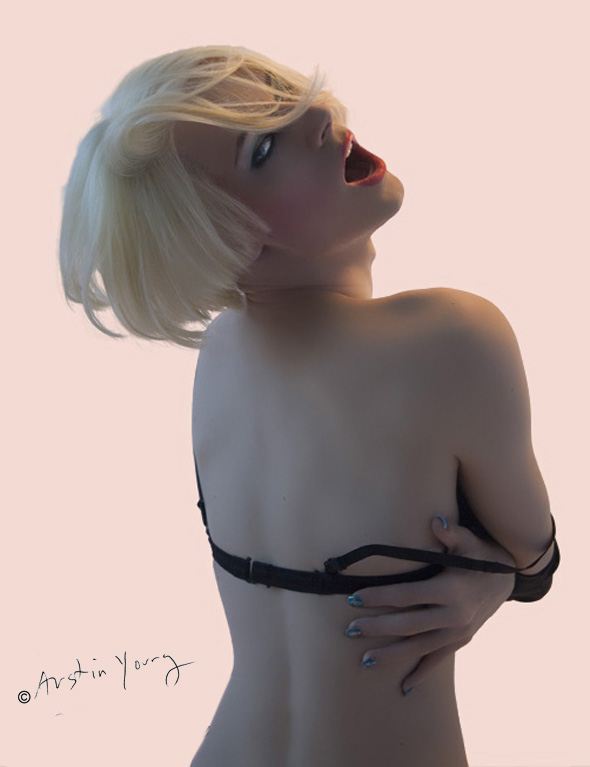 Chris aka "Christine" Crocker
Love Connie
John Cantwell aka 'Love Connie'
Watch Connie Wood on World of Wonder
portraits by Austin Young
Portraits by Austin Young. Austin reconstructs tropes of pop art and pop culture into alarmingly brilliant new icons. A portrait is a representation of an individual; it's intent: to capture the essence of the sitter. This fundamental quality in Austin Young's work is delicately crafted. Young's pastel color palate and compositional simplicity foregrounds and imbues subject with an emotional presence and intimacy.
DRAG
Gender performance and Identity
AUSTIN YOUNG HAS BEEN DOCUMENTING DRAG AND TRANS CULTURE SINCE 1985 THROUGH PORTRAITURE.
"GIRLS CAN WEAR JEANS AND CUT THEIR HAIR SHORT AND WEAR SHIRTS AND BOOTS BECAUSE IT'S OKAY TO BE A BOY; FOR GIRLS IT'S LIKE PROMOTION. BUT FOR A BOY TO LOOK LIKE A GIRL IS DEGRADING, ACCORDING TO YOU, BECAUSE SECRETLY YOU BELIEVE THAT BEING A GIRL IS DEGRADING." –IAN MCEWAN, THE CEMENT GARDEN